2019: Outstanding Year for MWM with Focus on Flexibilization and Distributed Power Generation for Maximum Energy Security in the Age of Energy and Structural Change
Mannheim, December 19, 2019
MWM is proud of its achievements and performance in the financial year 2019. With its two new gas engines models TCG 3020 V20 and TCG 3042, MWM supplemented its product portfolio with two high-performance power gensets with maximum electrical efficiency levels in their respective output categories. Throughout 2019, the Mannheim-based gas engine manufacturer again rolled out numerous projects for improved energy security and flexible energy generation in collaboration with MWM service and sales partners. Moreover, a control energy power plant and a food manufacturer's cogeneration power plant running with MWM engines were each designated as "Cogeneration Power Plant of the Month".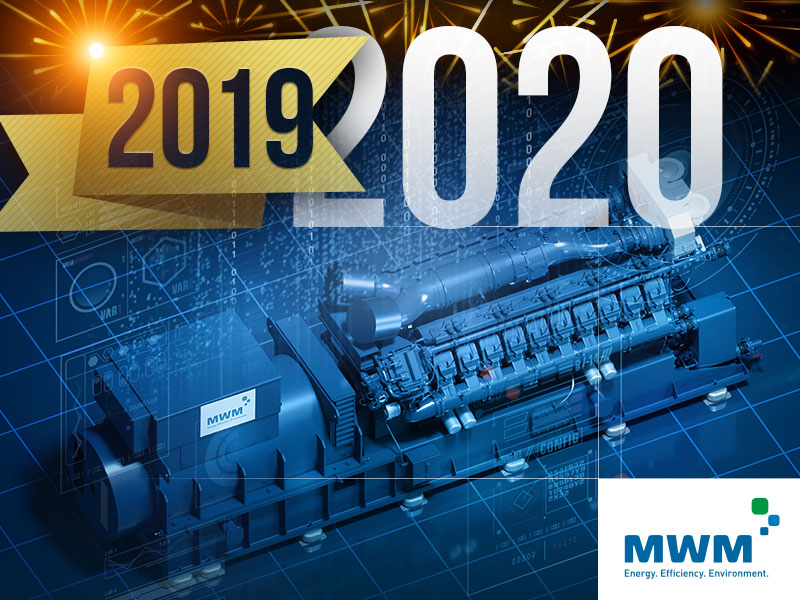 The All-Round Talent and the Space Saver: MWM TCG 3020 V20 and MWM TCG 3042
With its two gas engines TCG 3020 V20 and TCG 3042, MWM supplemented its product offering with two innovative gensets. Thanks to its modular design, the TCG 3042 is ready for installation immediately upon delivery. Compared to conventional designs, the number of components of the TCG 3042 gas engines has been reduced by 40 percent. Another highlight is the modest need for space between the gensets, which saves a lot of space. Depending on the application scenario, the TCG 3042 can be optimized either for combined heat and power (CHP) generation or for power generation only. The flexible MWM all-round talent TCG 3020 V20 is suitable for natural gas, biogas, landfill gas, and propane gas applications. The new MWM power genset delivers an outstanding electrical efficiency of 45 percent for natural gas and 43.6 percent for biogas. Owing to its high profitability and reliability, the MWM gas engine is ready for the challenges of Industry 4.0. 
Successful Collaboration and Trend-Setting Energy Projects for Distributed Energy Supply
In 2019, MWM again rolled out a number of innovative projects for improved distributed energy supply in collaboration with its service and sales partners. In recognition of its high energy efficiency and flexibility, "Energie & Management" magazine designated the control energy power plant of the pellet plant of WUN Pellets GmbH in Wunsiedel, Germany, which runs with three MWM TCG 2032B V16 gas engines, as "Cogeneration Power Plant of the Month" of March, highlighting its role in championing climate-friendly, distributed energy generation. The pellet plant's gas engines, which are fueled with climate-friendly natural gas, supply some 40,000 households in Upper Franconia with power. 
In April, chocolate manufacturer Weinrich's CHP plant in Herford, Germany, was also designated as "Cogeneration Plant of the Month" in recognition of its highly efficient energy concept. Thanks to the cogeneration power plant with an MWM TCG 2016 V16 gas engine, Weinrich is able to cover two thirds of its power demand from its internal production. By switching to the energy-efficient, eco-friendly production, the chocolate manufacturer saves both energy costs as well as up to 1,950 t of carbon a year.
New MWM Service Tutorials: Video Series "Do It the Smart Way" Provides Maintenance Tips
The MWM service tutorial series "Do It the Smart Way", which was launched on YouTube in 2019, provides viewers with basic maintenance tips for MWM power gensets. In the videos, Alexander Klotz, Technical Trainer at the Training Center Service in Mannheim, gives concise, easy-to-understand maintenance instructions for MWM gas engines. For example, he shows how to replace spark plugs and how to adjust the valve clearance. The MWM team is satisfied with its achievements in the last 12 months and looks toward 2020 with confidence. MWM would like to thank its partners and customers for the successful collaboration in 2019 and wishes all a Merry Christmas and a Happy New Year.
Further information:
Contact Media
Aljoscha Kertesz
Manager Communications
T +49 6 21/3 84 – 87 48
E press@mwm.net
Frank Fuhrmann
Online Editor
Member of DPV / German Press Association
T +49 6 21/3 84 – 86 33
E press@mwm.net