1994
632 Series Developed by DEUTZ MWM Elates at International Trade Fair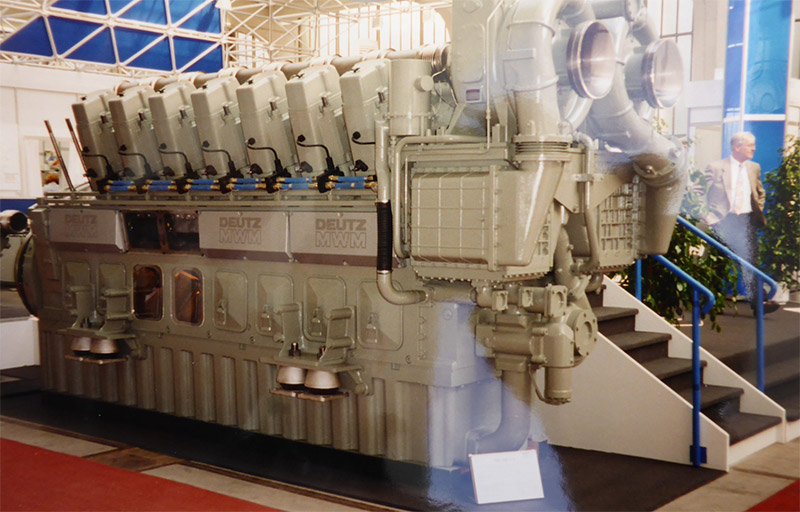 Presentation of the Predecessor of the TCG 2032 V16 Gas Engines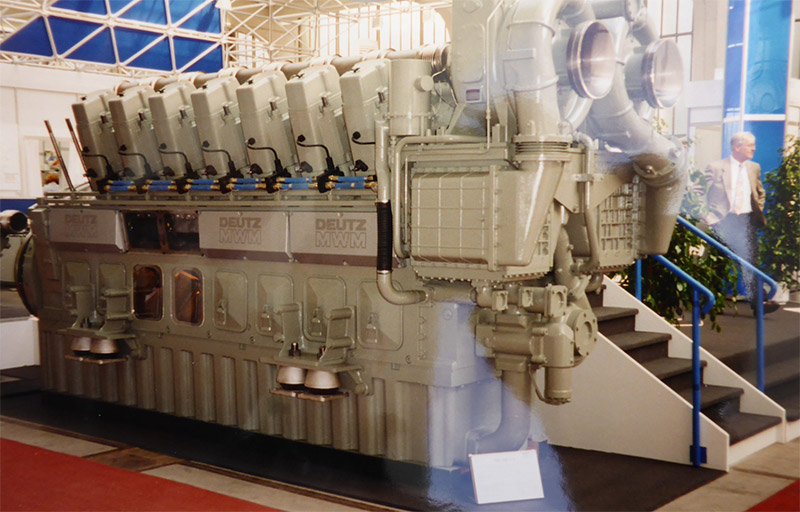 At the international trade fair "SMM '94" (Shipbuilding, Machinery & Marine Technology Exhibition and Conference) in Hamburg, Germany in 1994, the DEUTZ MWM 632 series attracted the attention of the visitors. DEUTZ MWM had received an order from the US company GETS (General Electric Transportation Systems) for the joint development of a new electronically controlled diesel engine series for locomotives. The series was developed and planned as an in-line engine with six, eight, and nine cylinders and as a V-engine with 12, 16, and 18 cylinders by DEUTZ MWM in Mannheim. The output of the engines ranged from 1,440 to 6,300 kW. The first prototypes were subjected to extensive test runs. Some components, such as the crankshaft with welded-on counterweights, came from the USA. Upon preliminary completion of the first test phase, a pilot series was built in Mannheim for field testing in the new GETS AC 6000 locomotive and shipped to the United States. For contractual reasons, DEUTZ MWM was not permitted to build and sell diesel engines. Nevertheless, it was allowed to apply this engine design to gas generator sets. Therefore, gas engines that made use of this technology were soon built in Mannheim and sold as generator sets mounted on a base frame. The potential of the V version of the new large DEUTZ MWM 632 engine is reflected in the performance data: in 1999, the V16 gas engine was offered with an output of 3,000 kW and 20 years later with an output of 4,500 kW and 1,000 rpm.
MWM History. Future Needs Tradition.
More about the history of the company, the MWM brand and the experience in developing and optimizing stationary gas engines.
Read more
Development of DEUTZ MWM 616 High-Performance Diesel Engine Series
The year 1995 saw the introduction of high-performance diesel engines with high efficiency and low NOx emissions: the DEUTZ MWM 616 series.
Read more
Photo credits:
Source: Norbert Eisinger