Meet MWM Experts at the E-world energy & water 2023: Online Form for Registration and Appointments to Talk About "Hydrogen Solutions"
Mannheim, March 17, 2023
The motto of this year's E-world energy & water, the meeting point for the European energy industry, is "Solutions for a Sustainable Future". From May 23 to 25, 2023, numerous international exhibitors will again be present at the trade fair in Essen, Germany. At the trade fair, Caterpillar Energy Solutions will present sustainable, efficient energy solutions with MWM gas engines in the fields of decarbonization, green heat, hydrogen, power to heat, renewable energies, flexible energy generation, and innovative combined heat and power generation.
As the leading trade fair in Europe, the E-world has been the hub for the energy industry and related industries for more than 20 years. In May, exhibitors and visitors from the world over will come together to talk about innovative technologies and market developments. In 2022, a total of 67 nations were represented at the E-world. The E-world 2023 will mainly focus on the topics of smart energy, innovation, energy procurement, stock market developments, and hydrogen solutions.
Hydrogen as Clean Fuel for MWM Gas Engines
Caterpillar Energy Solutions will showcase its product brand MWM in the field of "Hydrogen Solutions" in hall 2, booth 2-203. MWM gas engines are already capable of running with a hydrogen admixture of up to 10 percent without any technical modifications. To learn more about sustainable energy generation using hydrogen as fuel for MWM gas engines, please feel free to make an appointment for a personal meeting with Caterpillar Energy Solutions at the E-world energy & water 2023.
Registration and Appointments
Registration for the E-world energy & water 2023 and requests for appointments with MWM can now be submitted directly via the online form on the MWM website: contact form
MWM at E-world 2023: May 23-25, 2023, Essen, Germany // Hall 2, Booth 2-203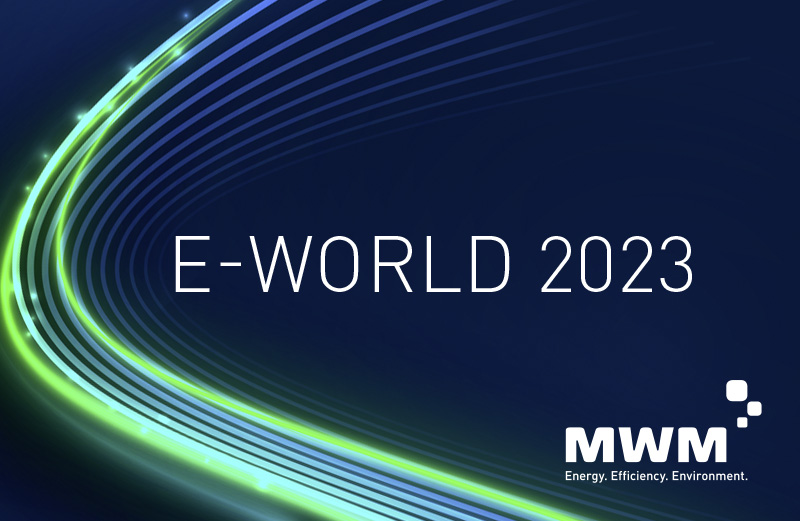 Further information:
Contact Media
Aljoscha Kertesz
Manager Communications
T +49 6 21/3 84 – 87 48
E press@mwm.net
Frank Fuhrmann
Online Editor
Member of DPV / German Press Association
T +49 6 21/3 84 – 86 33
E press@mwm.net